! mod for text 4/27/05 pw >
Engineering Power Solutions -- Why EPS?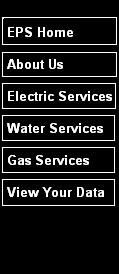 Competitive pricing on products and services
Dedication to excellence in customer service
Quick turnaround on monthly billings
Information about your properties, the way you want to see it
Access to your data 24/7
Over 15 years experience in the utility industry

EPS will partner with you in order to ensure your success. We have the tools and the resources to help you manague your utility costs in these challenging financial times. Contact us for more information on how we can help you.